$16.99
AUD
Category: Children's Books
Meet our superheroes: - Binky, aka The Monotreme! - Worried Norman, once bitten by a radioactive croissant and now Pastry Person! - Letitia, an occasionally bossy science-wombat and genius inventor!   Together, they are the EnviroTeens and they are about to get very, very angry. Singleuse Plastic Brend an may have an evil plan to destroy all the world's turtles with his dastardly tur-tele-pooter but, believe it or not, there is something even more sinister than an angry plastic bag on a garbage island in the middle of the ocean ... Climate change! Oh no! The EnviroTeens will do anything to stop this impending disaster: scale slippery volcanoes, scurry through forests full of poisonous armpit monsters, even meet Senator Ian, the Climate Denialist Potato. But can three teenagers and a chicken save the whole world? Why not, nobody else is! Maybe they are in with a chance? I can't look, it's too exciting! A hilarious graphic novel about a group of teens who are determined to clean the planet and clear the air. A proportion of the publisher's profits will be donated to School Strike 4 Climate Australia. ...Show more
$14.99
AUD
Category: Children's Books
In The Deep End, book 15 of the Diary of a Wimpy Kid series from #1 international bestselling author Jeff Kinney, Greg Heffley and his family hit the road for a cross-country camping trip, ready for the adventure of a lifetime. But things take an unexpected turn, and they find themselves stranded at an RV park that's not exactly a summertime paradise. When the skies open up and the water starts to rise, the Heffleys wonder if they can save their vacation-or if they're already in too deep. And don't miss Rowley Jefferson's Awesome Friendly Adventure, an all-new fantasy from Greg's best friend-the follow-up to the instant #1 bestseller Diary of an Awesome Friendly Kid- Rowley Jefferson's Journal.   ...Show more
$5.99
AUD
Category: Children's Books
Have fun with Bluey and Bingo and their friends. There are loads of games to play, stickers to place and much more! A fun-filled sticker activity book for kids of all ages. Bluey has been a phenomenal success since airing on ABC KIDS in October 2018, amassing legions of dedicated fans and hugely popular ranges of books, toys, clothes, games and more. It holds the coveted position of being the most watched program ever on ABC iView, with over 260 million plays for Series One, and is the winner of an International Emmy for Most Outstanding Children's Programme.   ...Show more
$14.99
AUD
Category: Children's Books
Bluey and Bingo head to the pool with Dad. What could go wrong? A gorgeous board book for kids of all ages. Bluey has been a phenomenal success since airing on ABC KIDS in October 2018, amassing legions of dedicated fans and hugely popular ranges of books, toys, clothes, games and more. It holds the cov eted position of being the most watched program ever on ABC iView, with over 260 million plays for Series One, and is the winner of an International Emmy for Most Outstanding Children's Programme.   ...Show more
$22.99
AUD
Category: Children's Books
1940. Britain is at war with Nazi Germany. Eleven-year-old Eric spends his days at the place that makes him most happy: London Zoo. And there's one animal in particular he loves: Gertrude the gorilla. With bombs falling all over London, Eric must rescue Gertrude. Together with his Uncle Sid, a keeper at the zoo, the three go on the run. But while hiding out at the seaside they uncover a top-secret Nazi plot… Join David Walliams on this action-packed, laugh-out-loud adventure for all the family! ...Show more
$4.99
AUD
Category: Children's Books | Series: Funny Kid
Laugh your head off with the Funny Kid series, from million-copy bestseller Matt Stanton! Every kid wants to laugh, but Max is the boy who can make it happen. A new video game has thrown Redhill Middle School into chaos. Will Max get the screen time he needs to dominate? Max is the funny kid and he's trying to beat Redhill's mystery pro gamer! Toilet snoozes, student protests, parent-teacher nights that go horribly wrong and an epic courtroom battle against Max's baby sister are just some of the things in store for Max and his friends in this Funny Kid adventure. ...Show more
$16.99
AUD
Category: Children's Books | Series: Bluey
Bluey loves to play Use the magnets to create games for Bluey, Bingo and their friends in the backyard, the forest and more. A fun-filled magnet book for kids of all ages. Blueyhas been a phenomenal success since airing on ABC KIDS in October 2018, amassing legions of dedicated fans and hugely popula r ranges of books, toys, clothes, games and more. It holds the coveted position of being the most watched program ever on ABC iView, with over 260 million plays for Series One, and is the winner of an International Emmy for Most Outstanding Children's Programme.   ...Show more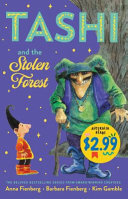 $2.99
AUD
Category: Children (Age 0-13) Books & Activities
In this Australia Reads exclusive story, can Tashi use Much-to-Learn's spell to outsmart the Wicked Baron and stop the old forest from disappearing?  
$24.99
AUD
Category: Children's Books
A spectacular new title from world-renowned artist Oliver Jeffers, creator of the million-copy selling, global phenomenon Here We Are! What shall we build, you and I? I'll build your future and you'll build mine. We'll build a watch to keep our time. A father and daughter set about laying the foundation s for their life together. Using their own special tools, they get to work; building memories to cherish, a home to keep them safe and love to keep them warm. From renowned, internationally bestselling picture-book creator and visual artist, Oliver Jeffers, comes this rare and enduring story about a parent's boundless love, life's endless opportunities and all we need to build a together future. ...Show more
$5.99
AUD
Category: Activity Books
Colour Bluey's backyard, the creek, the playground and more in this fun-filled colouring book.Bluey has been a phenomenal success since airing on ABC KIDS in October 2018, amassing legions of dedicated fans and taking the coveted position of being the most watched program ever on ABC iView, with over 20 0 million plays. It has also topped the Australian iTunes Kids Chart with the series peaking at #1 and consistently remaining in the Top 5. ...Show more
$25.99
AUD
Category: Children (Age 0-13) Books & Activities
Extraordinary imagery and rich language spark the reader's imagination as they enter the creative world of a young girl. From award-winning author Meg McKinlay and celebrated artist Matt Ottley comes a moving and visually stunning picture book that celebrates the transformative power of the creative pro cess from inception through recognition to celebration and releasing into the world. We shadow the protagonist as she contemplates the blue print of an idea, collects the things that inspire from the natural world to shape a bird. And breathes life into it before letting it fly free. It shows how small things, combined with a little imagination and a steady heart, can transform into works of magic.   ...Show more
$19.99
AUD
Category: Picture / Early Reader Books (Age 0-8)
 In the grand tradition of The Book with No Pictures and This Is a Ball, comes a brand-new read-aloud to get everyone laughing WARNING: Reading this book out loud may cause fits of giggles.