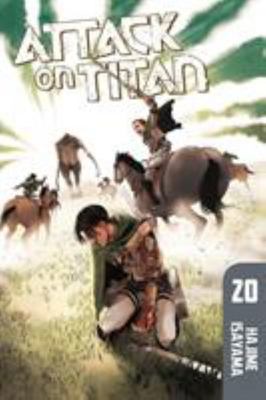 $18.99
AUD
Category: Manga | Series: Attack on Titan (includes all Subseries)
In this post-apocalyptic sci-fi story, humanity has been devastated by the bizarre, giant humanoids known as The Titans. Little is known about where they came from or why they are bent on consuming mankind. Seemingly unintelligent, they have roamed the world for years, killing everyone they see. For the past century, what's left of the human race has hidden in a giant, three-walled city. ...Show more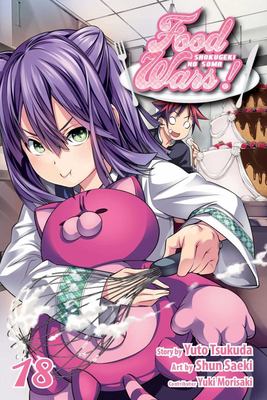 $14.99
AUD
Category: Manga | Series: Food Wars
An action-packed, saucy food comedy featuring one boy's determination to be top chef   Soma Yukihira's old man runs a small family restaurant in the less savory end of town. Aiming to one day surpass his father's culinary prowess, Soma hones his skills day in and day out until one day, out of the blue , his father decides to enroll Soma in a classy culinary school Can Soma really cut it in a place that prides itself on a 10 percent graduation rate? And can he convince the beautiful, domineering heiress of the school that he belongs there at all?   The shokugeki to decide the fate of the Polaris dormitory nears its conclusion Even with the judges firmly in his opponent's pocket, Soma puts everything he's learned from his time at the dorm on a plate, cementing Polaris's future--or lack thereof--at the institute. Meanwhile, Central makes its move, beginning a full-scale purge of anyone daring to resist Will Soma survive to take on this next challenge? ...Show more
$14.99
AUD
Category: Manga | Series: Assassination Classroom
Ever caught yourself screaming, "I could just kill that teacher"? What would it take to justify such antisocial behavior and weeks of detention? Especially if he's the best teacher you've ever had? Giving you an "F" on a quiz? Mispronouncing your name during roll call...again? How about blowing up the m oon and threatening to do the same to Mother Earth--unless you take him out first? Plus a reward of a cool 100 million from the Ministry of Defense Okay, now that you're committed... How are you going to pull this off? What does your pathetic class of misfits have in their arsenal to combat Teach's alien technology, bizarre powers and...tentacles?   The students of 3-E turn a surplus of eggs to good use--in pursuit of their usual goal. Karasuma teaches them the art of parkour while Koro Sensei teaches them the game of cops and robbers. Then, someone is stealing lingerie, and naturally Koro Sensei is the prime suspect But is he being framed...and if so, by whom? Lastly, biologically modified Itona discovers that sometimes tentacles can be a burden rather than a gift. He puts everything he's got into his latest assassination attempt on Koro Sensei...but who will save Itona from himself? ...Show more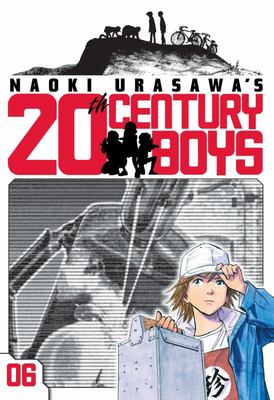 $18.95
AUD
Category: Manga | Series: 20th Century Boys
Fourteen years after "Bloody New Year's Eve" brought the world to the brink of extinction, Neo Tokyo in the year 2014 has fully recovered and become a thriving, multiethnic metropolis. Kanna has survived the chaos and is now 17 years old--and has just stumbled upon a terrible truth that may change her d estiny. Meanwhile, at a maximum security prison ten kilometres out in the middle of Tokyo Bay, a young manga artist learns firsthand the chilling downsides of the world he now inhabits. Things go from bad to almost unbearable when he's thrown into solitary confinement right near one of the prison's most notorious inmates. Has all hope been lost, or will this mysterious prisoner offer the frightened artist his only true shot at escape? ...Show more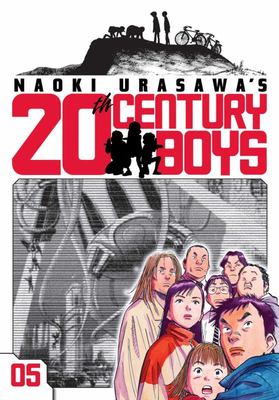 $18.95
AUD
Category: Manga | Series: 20th Century Boys
The giant robot has already been built and now awaits the Great Awakening...With the Friend's identity still a mystery, the countdown to the apocalypse continues, day by day, minute by minute--for on December 31, 2000, humanity will meet its final hour. Hoping to get as many people who knew about their group's emblem involved in their clandestine efforts, Kenji's crew reaches out to their childhood antagonists: the twins Yanbo and Mabo. Back when they were kids, Yanbo and Mabo terrorized Kenji and company to no end. As adults, and with a crisis looming, will the evilest brothers in history now fight on the side of good? ...Show more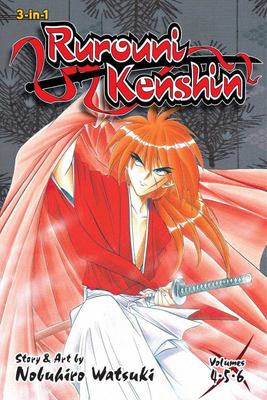 $22.99
AUD
Category: Manga | Series: Rurouni Kenshin (3-In-1 Edition) Ser.
The beloved landmark tale of a Meiji-era swordsman's quest for redemption.   Action, romance, and historical intrigue help make Nobuhiro Watsuki's Rurouni Kenshin, the tale of a wandering swordsman set against the backdrop of the Meiji Restoration, one of the most popular manga titles of all time. Hi mura Kenshin, once an assassin of ferocious power, now fights to protect the honor of those in need.   Isurugi Raijuta, a truly old-school swordsman, comes to Kenshin and requests his aid in reforming the state of swordsmanship schools in Japan. Although Kenshin is intrigued by Raijuta's ideals, Raijuta's plan to weed out the schools he deems unfit is not in accordance with Kenshin's deepest-held beliefs. But when Kenshin walks away from the offer, one fact quickly becomes apparent: Raijuta will stop at nothing to ensure the supremacy of his own school of sword fighting ...Show more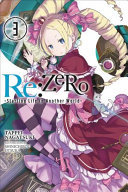 $30.00
AUD
Category: Manga | Series: Re: Zero Starting Life in Another World
It's been three days since Subaru and Emilia separated. Subaru has fled to Crusch's mansion, letting Rem tend to him while his heart festers. Gloomy and distraught, Subaru ignores Rem's instructions and returns to Roswaal's manor. But what he finds when he arrives brings the spiral of death and despair even closer. ...Show more
$22.99
AUD
Category: Manga | Series: Naruto
Naruto is a young shinobi with an incorrigible knack for mischief. He's got a wild sense of humor, but Naruto is completely serious about his mission to be the world's greatest ninja! A new ninja causes trouble among the ranks of Team Kakashi when they return from losing Granny Chiyo in the battle again st Sasori. The secrets this stranger hides may be disastrous for Naruto. But Orochimaru may have bigger problems when the mysterious Akatsuki infiltrates his stronghold with a spy! ...Show more
Haikyu!!, Vol. 22
by Marlene (EDT) Julian (ILT); First Erika (ILT); Robinson Adrienne (TRN); Terriquez Haruichi; Beck Furudate
$14.99
AUD
Category: Manga | Series: Haikyu
Shoyo Hinata is out to prove that in volleyball you don't need to be tall to fly Ever since he saw the legendary player known as "the Little Giant" compete at the national volleyball finals, Shoyo Hinata has been aiming to be the best volleyball player ever Who says you need to be tall to play volleybal l when you can jump higher than anyone else? The semifinals of the Tokyo Area Qualifiers for the Spring Tournament have begun It's Nekoma vs. Fukurodani in a win-and-you're-in match Fukurodani's ace, Bokuto, is in top form as he goes head-to-head with Nekoma's defensive master, Yaku. Will the Cats be able to take down the Owls? ...Show more
$18.99
AUD
Category: Manga | Series: Attack on Titan Ser.
ERWIN'S GREATEST GAMBLE Commander Erwin has finally come to a decision: Putting their own wealth and position ahead of the survival of humanity, the royal government is no longer fit to lead. To execute their leader's most audacious plan yet, Eren and Krista will have to put themselves in peril yet agai n, and Armin, Mikasa, and the rest of the Survey Corps will have to turn from humanity's guardians into traitors. If they fail this time, they'll face not a Titan's gaping mouth, but the gallows... ...Show more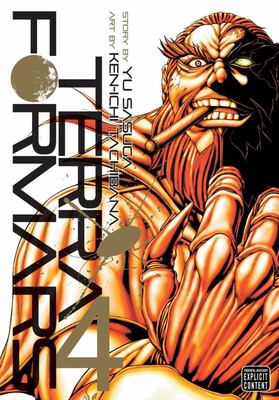 $18.99
AUD
Category: Manga
In the late 26th century, overpopulation on Earth is reaching the breaking point, and humanity must find new frontiers. The terraforming of Mars has taken centuries but is now complete. The colonization of Mars by humanity is an epoch-making event, but an unintended side effect of the terraforming proce ss unleashes a horror no one could ever have imagined...In order to protect their crewmates, Akari and Michelle use their abilities and head into battle against the Terraformars, who have adapted unique and terrifying new forms! The enemy's astounding strength forces them into an unexpectedly desperate fight. Meanwhile, the whereabouts of the other teams scattered around Mars become clear. The battle between humans and the demons they created reaches a new intensity. ...Show more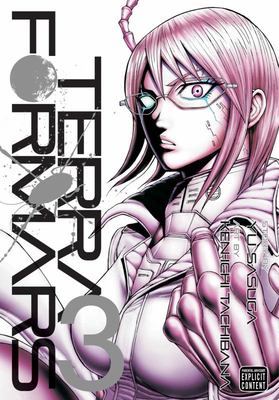 Terra Formars: 3
by Ken-ichi (ILT) Yu; Tachibana Sasuga
$18.99
AUD
Category: Manga | Series: Terra Formars
In the late 26th century, overpopulation on Earth is reaching the breaking point, and humanity must find new frontiers. The terraforming of Mars has taken centuries but is now complete. The colonization of Mars by humanity is an epoch-making event, but an unintended side effect of the terraforming proce ss unleashes a horror no one could ever have imagined...A new mission to Mars, Annex 1, is under way. Their mission: crucial research into the A.E. Virus currently plaguing mankind. The mutant Terraformars, giant humanoid cockroaches, may hold the key to a cure. Unfortunately for the crew of the Annex 1, the Terraformars have somehow gotten on board the ship and have only one goal - total extermination! Led by Akari Hizamaru, the crew will need to rely on their superhuman powers to survive...if those powers don't kill them first! ...Show more